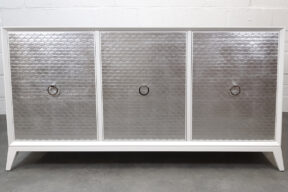 Description


A bespoke sideboard with dramatic hand gilt scales.

Rye has history as a port for smuggling over The Channel. In 1614 there were restrictions placed on English wool, to protect the British cloth industry. Despite this, illegal exportation of wool from Rye to France increased. Even the death sentence was not enough to deter these smugglers!
Materials used


Manufactured in moisture resistant board, solid beech and veneer.

All doors on cushion close fully adustable hinges.

Scales are finished in a silver gilt leaf and sealed with a tough polyurethane lacquer.
Craft notes


This sideboard was a challenge which needed the old school skills and knowledge of structural veneers, along with the latest laser cutiing technology, to create the shaped scales.

This design can be value engineered to suit your preferred style, dimensions and budget.

Made by hand in our West Sussex workshop.