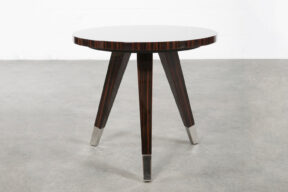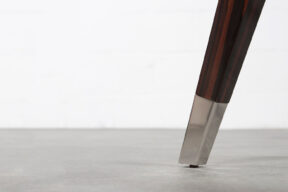 Description


Macassar Ebony side table with polished stainless steel detailing.

Flint scrapers, found during an excavation in the area, shows that man was present at Chidham more than 4,000 years ago.

These scrapers suggest fish traps and primitive salterns were being made here.
Materials used


Made with certified sustainable kiln dried hardwood and veneers.

Finished in high gloss polyurethane lacquer.

Inset to the legs are polished stainless steel sabots.
Craft notes


The wide splay of the three legs ensures this table remains stable

This design can be value engineered to suit your preferred style, dimensions and budget.

Made by hand in our West Sussex workshop.